Course details
【120 minutes drinking with attached】 All 13 items · Steak course of thick walled ivy 5000 yen ★ For Bonenkai · New Year party ◎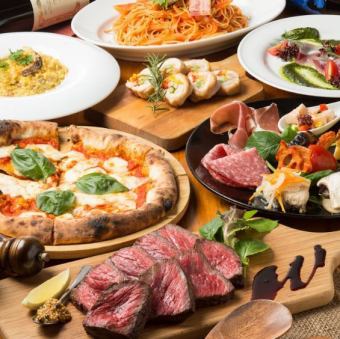 By using a coupon5000 Yen
tax included
All-you-can-drink available

120 minute system (20 minutes before LO)
Reservation deadline

Until 23 o'clock the day before the store visit date
Available days for reservation

Monday - Sunday - Public holidays - Holidays
If you are worried about which course to take, this course is recommended! It is a course that you can enjoy "grilled beef turbo grill" as the main course.Participants may get cheered by the luxurious feeling of the rare site Ichibo, thick cuts Of course, other boasted dishes are slurping.A colorful rich "appetizer platter" and cheese melting "stone kiln pizza (margherita)" is a very popular item for women ★ everyone promises a very satisfying banquet!
Course menu
◆ 8 appetizers
(Proshoot, Italian salami, freshly baked Italian omelette, boiled tomatoes of seasonal vegetables, marinated octopus and squid ... etc)
◆ Today's Fish Coolers
◆ Today's chicken dishes
◆ Baked Margherita
◆ Juicy red steak full of taste ♪ Grilled beef ribbon
◆ Please choose either risotto or pasta
※ Please inform us in advance if you have any allergy etc. when you cook.
* For those who booked a course of over 4,000 yen, we are free to lend out facilities such as microphones and projectors! Please do not hesitate to contact us.
All-you-can-drink menu
·beer
· Draft beer / Shandogaph
·wine
· Recommended daily wine (red · white) / kitty / keel / homemade sangria
·Cocktail
· Jin / Vodka / Cassis / Peach / Yogurt / Passoa / Campari
·whiskey
· Shochu
· Potato / wheat
·Plum wine
·Soft drink
· Oolong tea / Orange / Grapefruit / Coke / Gingeraire
2018/11/12 update