Course details
【150 minutes drinking attachment】 luxurious gorgeous! All 13 items · Kuroge Wagyu beef steak course 6000 yen ★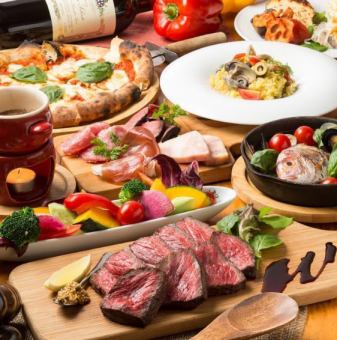 By using a coupon6000 yen
Tax inclusive with all you can drink
All-you-can-drink available

150 minutes (LO 20 minutes before)
Reservation deadline

Until 23 o'clock the day before the store visit date
Available days for reservation

Monday - Sunday - Public holidays - Holidays
Speaking of meat Kuroge Wagyu! For those who like this course Recommended ★ The main 'Kuroge Wagyu beef ramuichi Tariata' is so soft and juicy that it melts.The taste of "This is Wagyu!"Besides, the menu boasting is prosperous."Aquapazza" that you can enjoy the deliciousness of seafood is a special course that our shop boasts ... ♪ to the risotto of the deceased as it is the soup which had exuded the umami!
Course menu
◆ 4 types of meat appetizers
(Prosciutto, Italian salami, homemade putty ... etc)
◆ Four appetizers of the day today
(Freshly baked Italian omelette, simmered seasonal vegetables with tomato ... etc)
◆ Today's fresh fish Aquapazza
◆ Bagna cauda of colored vegetables
◆ Baked Margherita
◆ Tagliata of Kuroge Wagyu beef ramuichi
◆ Risotto of the end
★ We will serve the Aquapazza which the seafood soup is impregnated as it is with risotto! ★
※ Please inform us in advance if you have any allergy etc. when you cook.
* For those who booked a course of over 4,000 yen, we are free to lend out facilities such as microphones and projectors! Please do not hesitate to contact us.
All-you-can-drink menu
·beer
· Draft beer / Shandogaph
·wine
· Recommended daily wine (red · white) / kitty / keel / homemade sangria
·Cocktail
· Jin / Vodka / Cassis / Peach / Yogurt / Passoa / Campari
·whiskey
· Shochu
· Potato / wheat
·Plum wine
·Soft drink
· Oolong tea / Orange / Grapefruit / Coke / Gingeraire
2018/11/12 update